 Unique Flavours for
Your Next Barbeque
You put pride into your cooking, we put pride into our flavours.  Try our delicious spice blends and sauces to enhance your culinary experience to the next level.
Whether you need to get the most out of that AAA prime rib or add a touch of savoury sweetness to your next rack of ribs, Yonedas will enhance almost anything you are cooking.  Read about our custom blends below.
Yonedas Red
Red is the most powerful of all colors; Equally associated with power and love.  This signature Yonedas seasoning is a fine blend of classic flavors designed to accentuate the flavors of pork and chicken. It's a nice, sweet treat with a hint of savory, just the right balance to bring out the natural flavors of your meat.  When using this seasoning, generously cover your meat with Yonedas Red. Let meat rest for 20 minutes prior to grilling.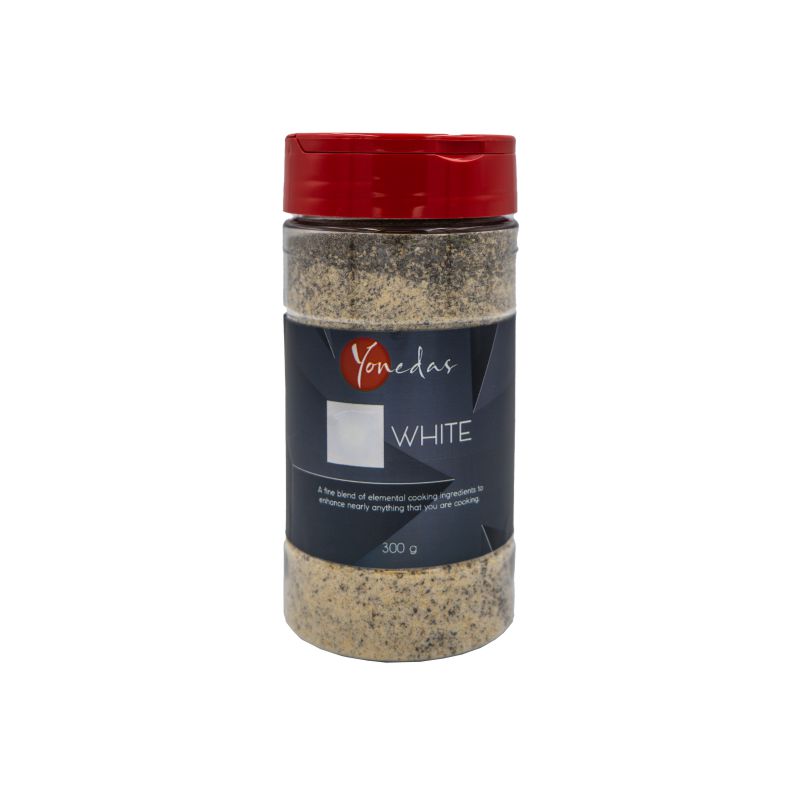 Yonedas White
White is the lightest of colors it makes everything around it shine brighter, just like this seasoning.  Yonedas White is a fine blend of elemental cooking ingredients to enhance nearly anything that you are cooking. When preparing food with this seasoning, cover your food with Yonedas White. Let your food rest for 20 minutes prior to grilling.
Yonedas Gold
Gold is the richest of colors; The embodiment of excess and wealth.  This seasoning is rich like its name, a course blend of southwestern full-bodied flavors. A perfect seasoning for beef, chops, and chicken. When using this seasoning, generously cover your meat with Yonedas Gold. Let meat rest for 20 minutes prior to grilling.
Yonedas Jacek Chocolate
Our newest flavour, Yonedas Jacek Chocolate layers chocolate and southwestern spices to bring a sweet and salty complexity to any dish.  This rub was designed in partnership with Jacek Chocolate Couture, a world renown chocolate designer and retailer.  Visit jacekchocolate.com to learn more about them and why we chose them to partner with!
Finishing sauces for a wide variety of BBQ and gourmet needs. With seven flavours to choose from and designed to pair with our Seasonings, Yonedas Sauces will surely enhance your latest creation.  All of our Sauces and Seasoning are Gluten Free.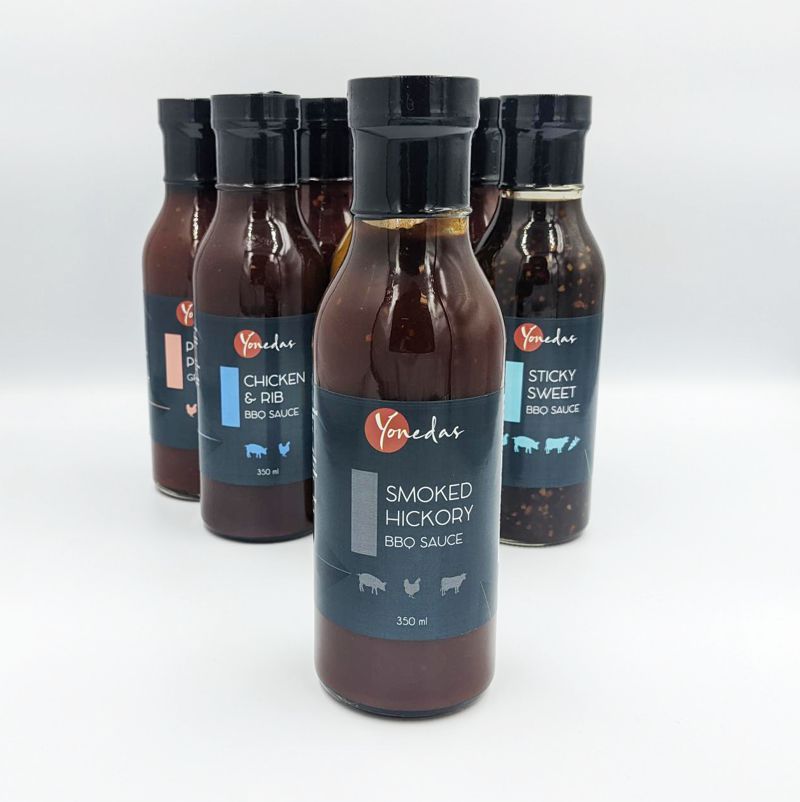 Smoked Hickory BBQ Sauce
A thick, rich sauce with the flavour of slow roasted hickory smoke.  This sauce enhances any BBQ selection or recreates the BBQ qualities in your oven.
Princess Peach Grilling Sauce
A fantastic medley of grilled peaches and hot chilies will give you a subtle heat and balance of fruity flavors.  Tastes great on chicken and pork.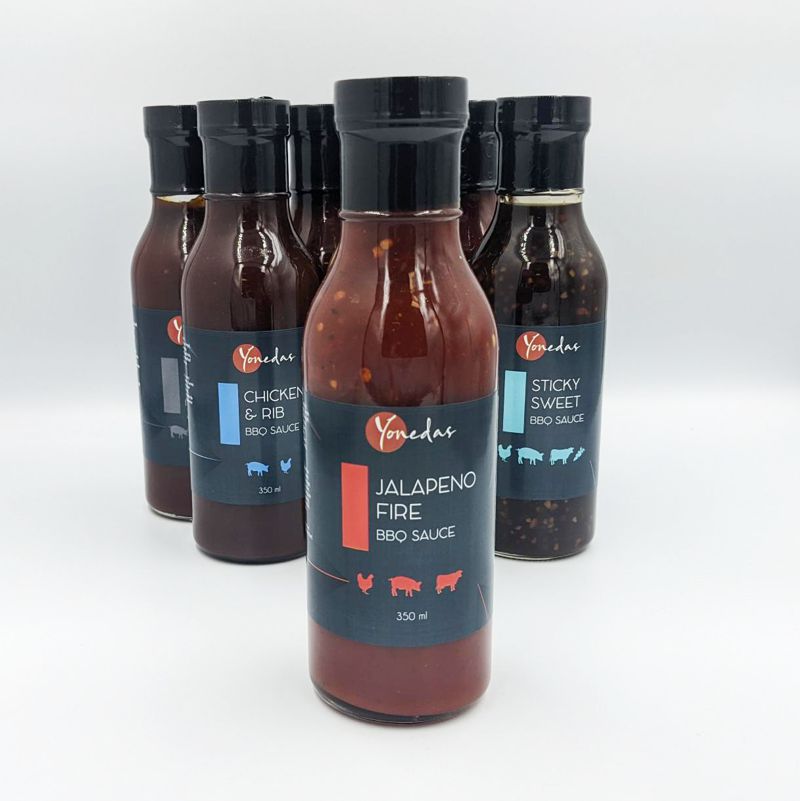 Jalapeno Fire BBQ Sauce
This sauce will make your taste buds come alive with a spicy mix of Jalapenos, Chilies and Cayenne.  Tastes Great on Chicken, Pork and Beef.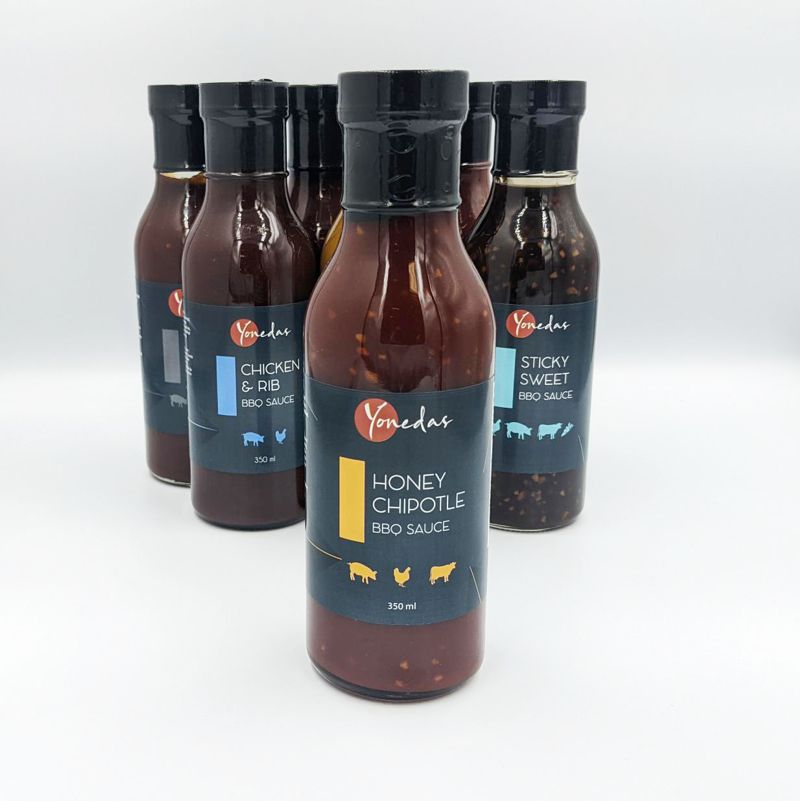 Honey Chipotle BBQ Sauce
A delicious blend of sweet and smoky gives this sauce just the right amount of kick to make any meal memorable.  Perfect for all of your grilling needs.
Chicken & Rib BBQ Sauce
A slightly smoky tomato BBQ sauce, perfect to accompany Pork, Chicken and Ribs.
Grannie's Gold Mustard Sauce
A tangy, sweet, golden bbq sauce.  Delicious on pork or chicken as a glaze or dipping sauce.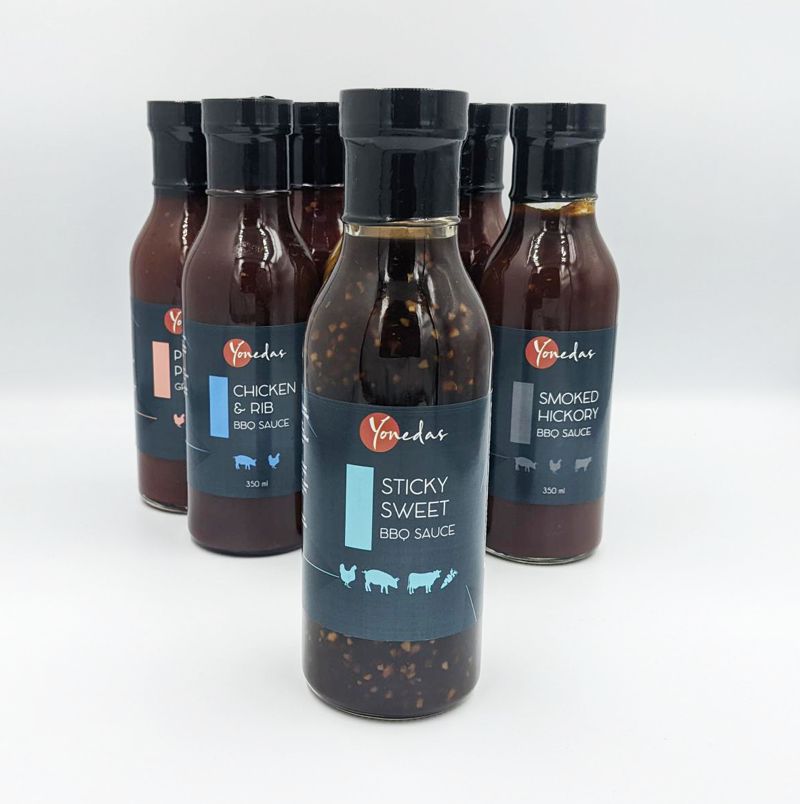 Sticky Sweet BBQ Sauce
Alberta Honey and garlic make this Asian inspired sauce come alive.  Fantastic as a BBQ or stir fry sauce.  Serve with chicken, pork, beef or vegetables.
Where can I get Yonedas Seasoning?
Would you like to try Yonedas Seasonings and Sauced?  Shop on our online store now!