 Versatility and Strength in the Kitchen
Yonedas knives are designed to be versatile to get any job in the kitchen done. There is a knife for every major task. Whether you are carving a brisket or a Christmas turkey or taking on jobs like chopping vegetables or peeling fruit, one of these beautiful pieces of hardware will fit the bill. Yonedas knives are designed with quality and price in mind. Blades made of 67 layers of stainless steel, a VG10 core and pakka wood handles. These knives, with the right care and attention, should last you a lifetime. Break these out of their cases at a dinner party and you are sure to impress your guests with your knife work and your hardware in the kitchen. Because we used harden steel to make these knives, they will get extremely sharp and stay sharp longer than most standard kitchen knives. That's the real difference between a Yonedas and everything else.
Okami Chef Knife
MSRP: $270 CDN
Okami means Wolf in Japanese, the houndstooth pattern of the Damascus cladding is reminiscent of a pack of wolves on the hunt.  Wolves hunt in packs, but with this knife, you can work alone to take down any vegetable or protein.  The 10" blade is long enough for the biggest jobs, whether it be slicing a big piece of meat or chopping vegetables, this knife is going to be busy in your kitchen.  The extreme sharpness of this blade is thanks in part due to it's VG10 steel core and 67 layer Damascus cladding.  Be sure with this knife to always washed, dry and then put it away, never leave it abandoned in the sink.
Specifications
Total Length: 15.375″ / 390mm
Blade Length: 10″ / 330mm
Weight: 7.8 oz / 222 g
Blade Thickness: 5/64″ / 2.0mm
Hardness: 58-60 HRC
Blade Core: VG10
Handle Material: Pakka wood
Raion Slicer
MSRP: $340 CDN
Raion means Lion in Japanese, and this knife is designed with a beautiful tooth patterned Damascus to emulate the mouth of a carnivore.  With the lion being the king of the jungle, the name seemed fitting for the king of the knives!  The massive blade of the Raion slicer is designed to be extremely sharp.  The VG10 Core is a core that will last a lifetime with proper care and maintenance.  The stainless cladding on the outside, protects the inner core from damage, but when using this knife, please use extreme caution.  Only cut on soft surfaces like wood or plastic cutting boards and do not attempt to cut through bones.  This knife will slice through meat like it's not even there, but hard surfaces can chip the surface of the blade.
Specifications
Total Length: 18.25″ / 464 mm
Blade Length: 13″ / 330 mm
Weight: 10 oz / 284 g
Blade Thickness: 5/64″ / 2.0 mm
Hardness: 58-60 HRC
Blade Core: VG10
Handle Material: Pakka wood
Akita Boning Knife
MSRP: $210 CDN
Akita is a Japanese dog that was bread to hunt bears, this powerful animal is well balanced in height and weight, like the knife of the same name. This 8" boning knife has excellent balance and a beautifully curved blade the emulates the beautiful curve of an Akita's tail, this knife is able to maneuver through any challenging boning or trimming job.  The VG 10 core with 67 layer Damascus cladding will stand up to any job, just don't use it to cut through bones, guide the beautiful blade around the bone and deep into the meat.
Specifications
Total Length: 13″ / 330mm
Blade Length: 8″ / 203mm
Weight: 5.7 oz / 162 g
Blade Thickness: 5/64″ / 2.0mm
Hardness: 58-60 HRC
Blade Core: VG10
Handle Material: Pakka wood
Set of 3 Yonedas Knives
MSRP: $699 CDN
Get 3 three knives for 15% less than buying them individually.  All three Yonedas knives have a distinct purpose in the kitchen, you'll be glad to get them all!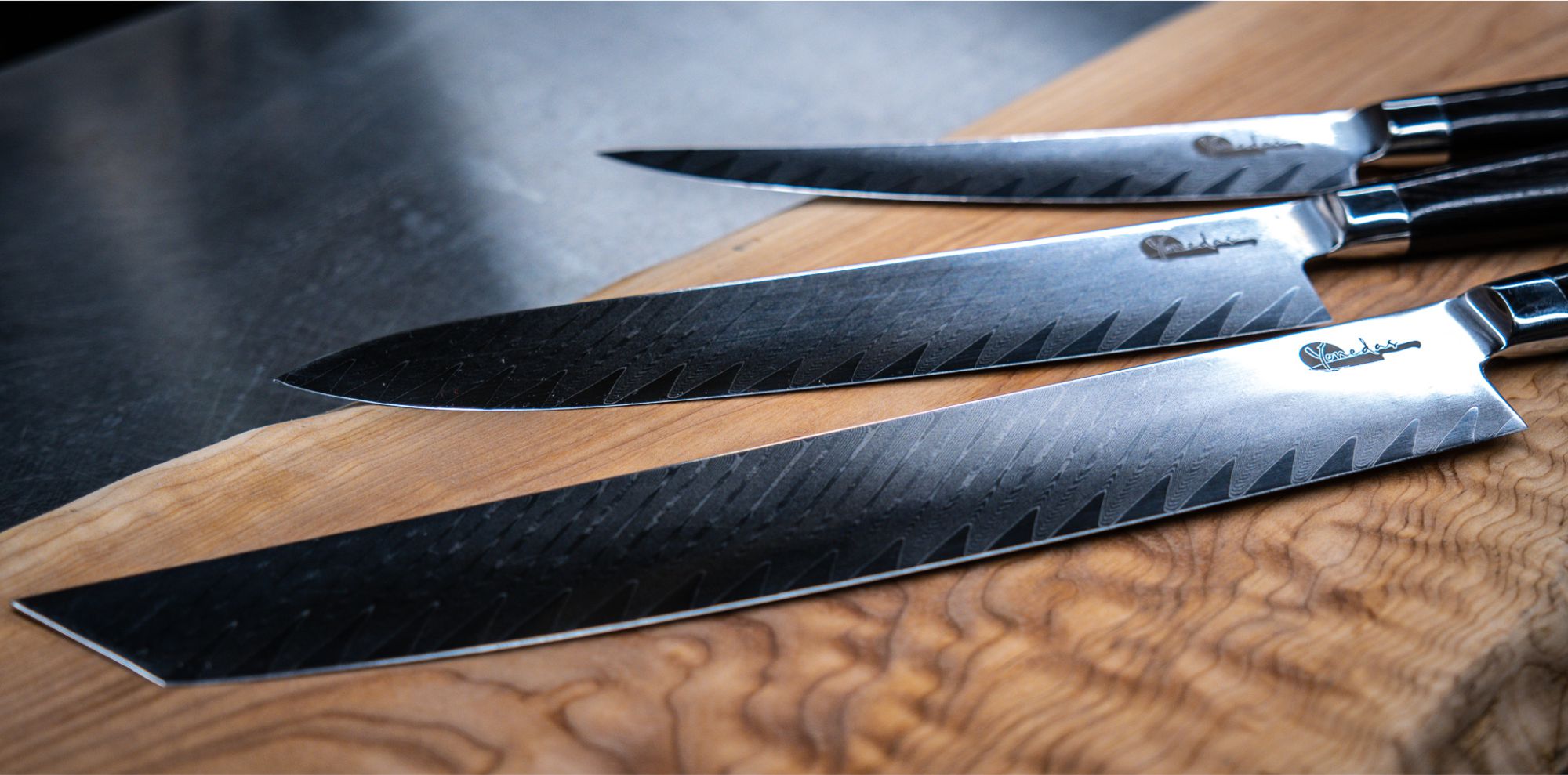 Build Quality
World Class Canadian Engineered Quality at Affordable Pricing
In order to keep our pricing at a reasonable rate, we hired the best factories in China to produce the molds that created our knives.  All of our knife samples are tested by the #1 Metallurgical testing facility in Western Canada, Acuren Engineering.  We believe that price is important when selecting a knife, but so is quality.  That is the reason we went through rigorous testing of our knives to confirm the quality. We put each knife through a series of tests including:
Metallographic cross section testing
Hardness testing
Destructive Compositional Analysis
Semi-Quantitative X-Ray Fluorescence Technique
Through this rigorous series of engineering tests, we were given Canadian stamped engineering specifications to confirm the quality of our blades.  We hope that you will put them through your own testing, but in the kitchen instead of the laboratory.